A kitchen remodel can be daunting and expensive, but it doesn't have to be. You can build your dream kitchen on a budget with a little creativity and forethought. Wondering how to remodel a kitchen on a budget? In this article, we will provide tips and tricks on remodeling a kitchen on a budget.
How to Remodel a Kitchen on a Budget
Here's how you can remodel your kitchen on a budget
Set a Budget
The first step in any remodel project is to determine your budget. This will help you determine what improvements you can afford and prioritize which areas of your kitchen to focus on. Know your financial limits and be flexible if you need to make concessions.
Identify Your Priorities
Once you have determined your budget, you must identify your priorities for the kitchen remodel. What do you want to improve or change? Are there specific appliances or features you need? What is most important to you, functionality or aesthetics? Knowing your priorities will help you make decisions that stay within your budget.
Research and Compare
Once you have determined your priorities, research the products and materials you want to use in your remodel. Shop around and compare prices to find the best deals. You may be able to find discount kitchen cabinets or flooring, for example, if you shop at the right time.
DIY vs. Hiring a Contractor
One of the biggest expenses in kitchen remodels is labor costs. You can save money by completing some of the work yourself if you have basic carpentry and plumbing skills. On the other hand, if you lack the skills or time to tackle a major kitchen remodel, you may want to hire a contractor. Just be sure to get multiple quotes from different contractors and carefully review their references and portfolios before deciding.
Saving Money on Materials
Reuse and Recycle
You can save money by reusing and recycling materials from your existing kitchen. For example, you may be able to reuse your existing kitchen cabinets and countertops or refinish your existing hardwood flooring. If you're unsure what you can reuse, consult a contractor or a home improvement expert.
Shop Sales and Discounts
Take advantage of sales and discounts when purchasing materials for your kitchen remodel. Home improvement stores often have clearance sales on discontinued or overstocked items, and online retailers may offer discounts and free shipping. Be sure to compare shops and read reviews before making a purchase.
Choose Affordable Materials
There are many affordable materials available that can give your kitchen a high-end look. Laminate countertops, for example, can mimic the look of granite or quartz at a fraction of the cost. You can also save money by choosing affordable flooring options such as vinyl or linoleum.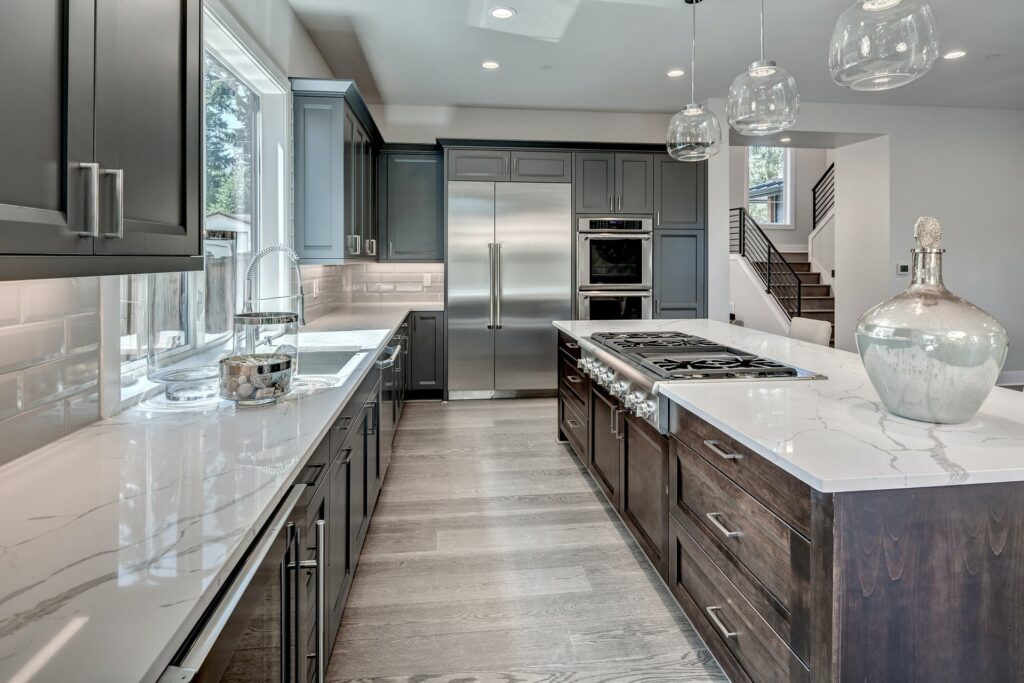 Aesthetic Upgrades on a Budget
Paint and Wallcovering
The easiest and cheapest approach to alter the kitchen's design is to paint or wallpaper the walls. You can paint your existing cabinets or add a backsplash to the walls for a fresh, updated look. Consider a neutral color palette, as it will be timeless and easy to accessorize with splashes of color.
Lighting
Good lighting can make a big impact in a kitchen. Consider installing under-cabinet lighting or adding pendant lights over the kitchen island. You can also change out the existing light fixtures for more stylish and affordable options.
Hardware and Fixtures
Updating the hardware and fixtures in your kitchen is a quick and easy way to give it a fresh look. Consider replacing your existing cabinet knobs and pulls or upgrading your faucet and sink for a more modern look. These small changes can make a big impact, and they're relatively inexpensive.
Accessorize
Accessorizing your kitchen is an easy and affordable way to add a personal touch. Consider adding a collection of colorful dishes, cookbooks, or artwork to your kitchen. You can also add plants or fresh flowers to bring a pop of color and life to your space.
Conclusion:
Remodeling a kitchen on a budget is possible with a little planning and creativity. By prioritizing your needs, keeping an eye out for specials and discounts, and focusing on reasonable materials and modifications, you can construct the kitchen of your dreams without going into debt. Remember, the key to success is staying within your budget and making informed decisions that align with your goals and priorities. Good luck with your kitchen remodel!
Get in touch with us at homeremodelingscontractors.com and receive a personalized quote today!
FAQS
How to Remodel Your Kitchen on a Tight Budget?
Focus on small and inexpensive upgrades such as painting cabinets and walls, changing hardware, and upgrading lighting
Reuse existing cabinets, countertops, and flooring if possible
Prioritize must-have improvements and avoid costly extras
Look for sales and discount deals on materials and products
Consider hiring a contractor who specializes in budget-friendly remodels.
How to do a small kitchen remodel on a budget?
Make the most of your space by maximizing storage and organization
Focus on lighting to make the space feel larger
Choose smaller and more compact appliances
Consider an open shelving system for dishes and cookware
Use mirrors or light colors to make the space feel more open and airy.
How much does budget kitchen remodeling cost?
Depending on the kitchen's size, materials, and scope, a low kitchen remodel cost can vary. A budget kitchen remodels can cost anywhere from $5,000 to $15,000.
What are the most affordable materials for a kitchen remodel?
The most affordable materials for a kitchen remodel include laminate countertops, stock cabinets, basic lighting fixtures, and vinyl flooring. However, it's possible to find quality materials that fit within your budget by shopping around, taking advantage of sales and discounts, and opting for recycled or second-hand materials.
Can I do a kitchen remodel myself on a budget?
Yes, you can do a kitchen remodel yourself on a budget if you have the time, skills, and tools required. Simple tasks such as painting cabinets and walls, changing hardware, and upgrading lighting can be done with minimal expertise. More complex tasks, such as installing cabinets or countertops, may require the help of a professional contractor.
How can I find a contractor for a budget kitchen remodel?
You can find a contractor for kitchen redo on a budget by asking for recommendations from friends and family, searching online, or contacting local trade organizations. It's important to get multiple quotes from different contractors to compare costs and services before deciding.
What should I prioritize when remodeling a kitchen on a budget?
When doing an economical kitchen remodel, it's important to prioritize the most important improvements and allocate your budget accordingly. Focus on improvements that will have the biggest impact, such as painting cabinets and walls, changing hardware, and upgrading lighting.
Can I still make my kitchen look stylish on a budget?
Yes, you can still make your kitchen look stylish on a budget. Simple upgrades such as a fresh coat of paint, new hardware, and updated lighting fixtures can give your kitchen a more modern and stylish look. Accessorizing with colorful dishes, cookbooks, and plants can also add a personal touch to your space.