The kitchen is not simply metaphorically the heart of the home. It's where meals are prepared, and conversations and memories are made. But what if you're working with a small kitchen? A cramped and cluttered kitchen can be frustrating and uninviting, making it difficult to enjoy spending time there. A small kitchen remodel can transform a cramped and cluttered space into a functional and beautiful kitchen you'll love.
Why Remodel Your Small Kitchen?
You might want to consider a small kitchen remodel for several reasons. Perhaps your current kitchen is outdated and in need of a modern update. Maybe it's too small for your growing family, and you need more storage and counter space. Or perhaps you simply want to improve the look and feel of your kitchen to make it a more inviting place. Whatever your reason, a small kitchen remodel can make a big difference in how you live in your home.
Planning Your Small Kitchen Remodel
The first step in any kitchen remodels is determining your goal. Consider your lifestyle and what you use your kitchen for. Do you love to cook and entertain? Or is your kitchen mostly used for quick meals and snacks? Do you need more storage space? Or are you looking to maximize your counter space? You may start planning your tiny kitchen renovation once you know exactly what you want to change.
Maximizing Space and Functionality
One of the biggest challenges of a small kitchen remodels is maximizing the available space. To maximize your little kitchen, consider the following suggestions:
Eliminate clutter: Start by decluttering your kitchen and removing anything you no longer need. This will not only give you more space, but it will also make your kitchen feel more open and spacious.
Utilize vertical space: In compact cooking areas, the potential utility of vertical space is typically disregarded. Consider adding shelving, a wall-mounted pot rack, or a hanging spice rack to take advantage of the vertical space in your kitchen.
Install pull-out shelves: You can make better use of your cabinetry by installing pull-out shelves. They allow you to easily access items in the back of your cabinets, making it easier to find what you're looking for.
Use the right appliances: Choosing the right appliances is key to maximizing the functionality of your small kitchen. Opt for compact appliances like mini-fridges, dishwashers, and ovens that are designed for small kitchens.
Invest in multi-functional furniture: Furniture like an island that doubles as a kitchen table or a bench that doubles as seating can help maximize the available space in your small kitchen.
Adding Style and Personality
While functionality is important in a small kitchen, remodeling, style, and personality are equally important. A well-designed kitchen should reflect your personal style and taste. Consider the following tips to add style and personality to your small kitchen remodel:
Choose the right color palette: Colors can greatly impact the feel of a room, so choose a color palette that reflects your personal style. Bright and bold colors can add energy to a small kitchen, while neutral colors can make it feel calm and relaxing.
Add texture: Textures like wood, stone, and tile can add depth and interest to a small kitchen. Consider using a combination of textures to create a rich and layered look.
Invest in statement pieces: Small kitchens often benefit from a few standout pieces that add character and style. This could be a colorful backsplash, an eye-catching light fixture, or a unique piece of artwork.
Incorporate open shelving: Open shelving is a great way to add personality to your kitchen and display your favorite dishes, glassware, or cookbooks.
Play with lighting: Lighting can play a big role in the look and feel of your kitchen. Add under-cabinet lighting, pendant lights, or a chandelier to create a warm and inviting atmosphere.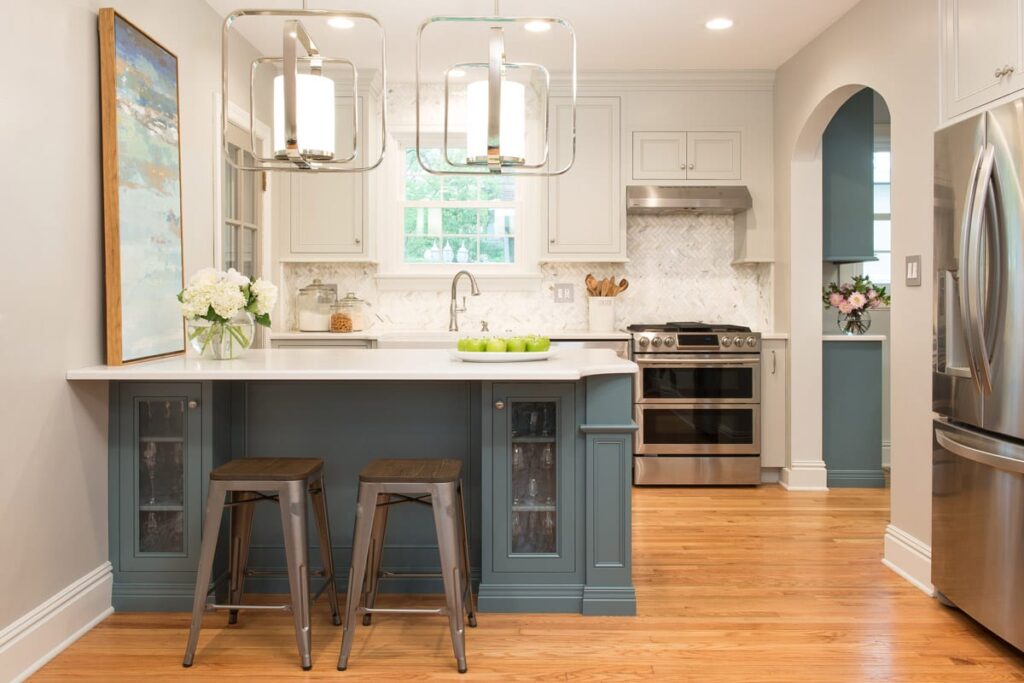 The Cost of a Small Kitchen Remodel
A small kitchen remodels price tag can fluctuate widely based on factors including the kitchen's size, the quality of the materials used, and the type of fixtures installed. A minor remodel, which might include updating cabinetry and countertops, could cost anywhere from $10,000 to $20,000. A major remodel, including adding new appliances and reconfiguring the layout, could cost $25,000 or more.
Hiring a Professional
A small kitchen remodel can be a big project, and hiring a professional can help ensure that the project is completed on time and within budget. A professional designer or contractor can help you make the most of your space and provide expert advice on materials and fixtures. They can also help you navigate any potential challenges that might arise during the remodeling process.
Bottom Line
In conclusion, a small kitchen remodel can be a great investment in your home. You can change your tiny and disorganized kitchen into a functional and aesthetically pleasing environment that you'll adore with a little imagination and planning. A minor kitchen renovation might help you achieve your objectives and make your house more enjoyable.
FAQS
How much does to remodel a small kitchen?
The cost of remodeling a small kitchen varies and can range from $10,000 to $30,000 or more. Materials, design complexity, and labor all have a role in setting the final price tag.
How to remodel a small kitchen?
To remodel a small kitchen, you should consider your budget, design preferences, and timeline. You should also research different materials and hire a contractor if necessary.
What is a small kitchen remodel?
A small kitchen remodel refers to upgrading or updating a compact kitchen space's existing design and functionality.
Can I do a small kitchen remodel myself?
It depends on your expertise level, the remodel's extent, and local building codes and regulations. The homeowner can do some simple upgrades, such as painting or changing hardware. More extensive remodels may require professional help.
How long does it take to redo a modest-sized kitchen?
A modest kitchen remodels length depends on its intricacy and extent. On average, completing a small kitchen remodel can take 4 to 8 weeks.
What is some popular small kitchen remodel ideas?
Popular small kitchen remodels ideas include upgrading cabinets and countertops, installing new lighting, adding an island, and updating the flooring.
Can I open up a small kitchen to make it bigger?
Yes, you can open up a small kitchen by removing walls, expanding the existing footprint, or installing sliding glass doors or a large window.
What kind of cabinets are best for a small kitchen?
Cabinets with open shelves, glass-front doors, or no doors at all are ideal for small kitchens as they visually open up the space.
Should I choose granite or quartz for my small kitchen countertops?
The choice between granite and quartz for your kitchen countertops depends on your personal style and budget. Both materials are durable, easy to clean and add value to your home.
How should a compact kitchen be illuminated?
A combination of overhead and task lightings, such as under-cabinet lights and pendant lights, is best for a small kitchen. This will provide ample light and create a warm, inviting atmosphere.
Can I add an island to my small kitchen?
Yes, you can add an island to your small kitchen. Just make sure to measure your space carefully and choose an island that is proportional to the size of your kitchen.