A living room is often the centerpiece of a home, serving as a space to entertain guests and relax with family. As such, renovating your living room can be a big decision, with many factors to consider. Whether you want to upgrade an outdated space or create a more functional layout, the following guide will help you plan and execute a successful living room renovation.
Living Room Renovation
Assessing Your Space
Before you begin your renovation, it's essential to assess your existing living room. Look at the room's size, layout, and current décor. Consider how the space is used and consider any changes you would like to make to improve functionality.
The next step is to consider your financial constraints. Costs for updating the look of your living room can range from a few thousand dollars to tens of thousands, depending on the extent of the work you have done. It's essential to determine your budget before you start the renovation process, as this will help you make informed decisions about materials, fixtures, and finishes.
Designing Your New Space
Once you have assessed your existing space and determined your budget, it's time to start planning your new living room. Here are a few important considerations to keep in mind:
Layout:
Consider the placement of furniture, doorways, and windows.
If you are working with a small living room, consider making the space feel larger by rearranging furniture or incorporating mirrors or light colors.
If your living room is large, consider creating different zones for specific activities, such as a seating area for watching TV and a separate area for reading or playing games.
Lighting:
Good lighting is crucial in a living room, as it can greatly impact the mood and ambiance of the space. Using a combination of ambient lighting, task lighting, and accent lighting is the greatest method to make a place appear cozy and inviting.
Flooring:
The type of flooring you choose for your living room can significantly impact the overall look and feel of the space. Popular options include hardwood, carpet, tile, and laminate. Consider each option's cost, durability, and style to determine which one is right for your living room.
Furniture:
Furniture is an essential part of any living room, and it's essential to choose both comfortable and stylish pieces. Think about the size of your living room and choose proportionate furniture. Consider incorporating a mix of seating options, such as sofas, chairs, and ottomans, to create a cozy and inviting atmosphere.
Color and Decor:
Color and décor can significantly impact the overall look and feel of your living room. Consider choosing a color scheme that complements your existing décor or a bold statement color to create a dramatic effect. Consider incorporating decorative elements, such as artwork, pillows, and rugs, to bring the space to life.
Renovation Process
Once you have designed your new living room, it's time to start the renovation process. Here are the steps you should follow:
Step 1: Preparing the Space
Before you begin your renovation, it's essential to prepare the space. This includes removing any furniture, fixtures, and decor and covering floors and walls with protective materials.
Step 2: Demolition
When everything is set up, demolition may begin. Depending on how extensive your remodel is, this could include the removal of walls, floors, and even electrical and water lines.
Step 3: Framing and Rough-in Work
Once demolition is complete, the next step is to frame and rough in any new walls or structures and install new electrical, plumbing, and HVAC systems. Any modifications, like better insulation or more energy-efficient appliances, can be made now, too.
Step 4: Finishing Work
With the rough-in work complete, it's time to focus on finishing the space. This includes installing flooring, painting walls, and installing any new fixtures, such as light fixtures and ceiling fans.
Step 5: Decorating and Furnishing
With the renovation complete, it's time to decorate and furnish the living room. This includes adding final touches, such as artwork, throw pillows, and curtains, and arranging furniture and accessories to create a functional and aesthetically pleasing space.
Popular Living Room Renovation Trends
Here are some of the most popular living room renovation trends as of my training data cut-off in 2023:
Neutral Color Palettes: Neutral colors such as beige, gray, and white continue to be popular in living room design as they create a calming and relaxing atmosphere.
Minimalist Design: Minimalist design is gaining popularity in living rooms as people look for ways to declutter and simplify their living spaces.
Textured Walls: Adding texture to walls, either through wallpaper, wall paneling, or even stone and brick accents, is a popular way to add depth and interest to a living room.
Open Floor Plans: Open floor plans, which allow the living room to flow into the kitchen and dining area, are becoming increasingly popular as they promote a more social and inclusive living space.
Natural Materials: People are increasingly turning to living room designs that use natural elements, such as wood, stone, and rattan.
Sustainability: As awareness of environmental issues grows, sustainable living room designs, such as those using eco-friendly furniture and recycled materials, are becoming increasingly popular.
Statement Lighting: Statement lighting fixtures, such as chandeliers, pendant lights, and floor lamps, are becoming a popular way to add drama and interest to a living room.
Comfortable Seating: Comfort is key in living room design, and plush seating options such as sectionals, chaise lounges, and oversized chairs are becoming increasingly popular.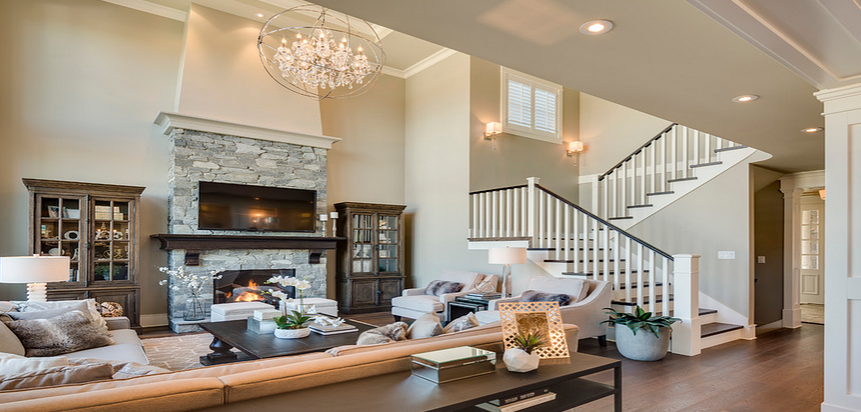 DIY vs. Professional Renovation
DIY (Do-It-Yourself) and professional renovation have pros and cons. It's important to consider these factors when deciding which option is best for your living room renovation project:
DIY Pros:
Cost-effective: Doing the renovation yourself can save you money on labor costs.
Personal satisfaction: Doing the renovation yourself can provide a sense of pride and personal accomplishment.
Flexibility: Doing the renovation allows you to make changes and adjustments as you go rather than sticking to a pre-determined plan.
DIY Cons:
Time-consuming: Doing the renovation yourself can take a lot of time, especially if you have limited experience with construction or renovation projects.
Limited skills: If you don't have the necessary skills or tools, a DIY renovation can quickly become frustrating and result in subpar work.
Risk of injury: Renovation projects can be physically demanding, and there is always the risk of injury when working with power tools and other equipment.
Professional Renovation Pros:
Expertise: Professional renovators have the experience and expertise to complete a renovation project quickly and efficiently, with a focus on quality workmanship.
Peace of mind: Hiring a professional renovator takes the stress and uncertainty out of the renovation process and allows you to relax and enjoy the results.
Warranty: Many professional renovators offer warranties on their work, giving you peace of mind and protection in case something goes wrong.
Professional Renovation Cons:
Cost: Hiring a professional renovator can be more expensive than doing the renovation yourself.
Less control: When you hire a professional renovator, you may have less control over the final outcome, as they will make decisions about materials and design.
Ultimately, deciding between DIY and professional renovation depends on your personal preferences, budget, and skill level. If you're confident in your ability to complete the renovation project successfully, DIY may be a good option. However, if you prefer to have the peace of mind that comes with professional expertise, hiring a professional renovator may be the better choice.
How expensive is it to remodel a house?
Remodeling a house depends on its size and materials. A full-scale home can cost anywhere from $50,000 to $200,000. However, smaller cosmetic updates can cost as little as a few thousand dollars.
Remodeling costs depend on space size, materials and finishes, design intricacy, and local labor costs. Additionally, if you need to make structural changes or upgrades to the electrical, plumbing, or HVAC systems, this can significantly increase the project's cost.
To get a more accurate estimate of the cost of your remodel, it's a good idea to consult with a contractor or designer who can help you assess your space and determine the cost of materials and labor. Additionally, it's important to set a realistic budget before you begin the project and to be mindful of any unexpected costs that may arise during the renovation process.
Conclusion
Renovating a living room can be a complex and time-consuming process. Still, with careful planning and attention to detail, you can create a beautiful and functional space that you and your family will enjoy for years to come. No of your budget, there are many methods to get the living room of your dreams. So take the time to assess your existing space, determine your budget, and plan your renovation with care to create a living room that truly reflects your style and meets your needs.
Ready to give your living room a stunning makeover? Get a quote today from homeremodelingcontractors.com, and let us transform your space into a haven of style and comfort!
FAQS
What does it cost to remodel a living room?
The cost of renovating a living room can vary greatly based on the size of the room, the materials used, and the extent of the renovation. A basic renovation can cost anywhere from $5,000 to $15,000, while a more extensive renovation can cost $20,000 or more.
How to renovate a living room?
To renovate a living room, you should start by planning and setting a budget, defining the scope of the renovation, and hiring a professional contractor if necessary. Then, consider the design elements such as functionality, style, lighting, storage, and color scheme. Finally, prepare for the renovation by organizing your space, communicating with the contractor, and adding personal touches to make the space your own.
How to remodel a living room on a budget?
Start by defining your priorities and cutting back on less essential elements to renovate a living room on a budget. Use cost-effective materials, consider DIY options, and prioritize renovations that will impact the room's overall look and feel.